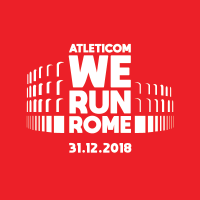 We Run Rome has establishing itself as one of the most important 10 km runs in Italy and in Europe.
In 2017 nearly 10,000 runners participated from all around Italy and the world.

The 5 km and 10 km will be located in the heart of Rome the afternoon of December 31st.

Atleticom is the Organizational Committee of the race, which is now in its 8th Edition.

The village will host multiple activities, before and after the event, to celebrate the end of 2018 and the beginning of the New Year.